दोस्तों आपके लिए आज एक लघु कथा / Short Story – सच्चे सुनार की परिभाषा लेकर आये है. इसे पढ़कर आनंद उठाइए और अपनी राय भी बताइए.
Short Story / लघु कथा 
Baat bahut purani hai. Ek gaun me Sunaar rahata tha. Uske char bete the. Ek din Sunaar ne apne charo beto ko bulaya or puchha- tum sabko malum hai, sachche Sunaar ki paribhasha? Bade bete ne kaha – 'Jo bachaye rupye me se chaar aane, ham sachcha Sunaar usi ko mane'. Manjhale ne kaha – 'sachcha Sunaar vah haijo pachas paise khud ki jeb me dale or pachas (50) hi paye'.
Sanjhale ne kaha,'bilkul nhi'. Sachcha Sunaar vahi jisaka sapna yhi ki rupye me barah aane apna'. Ab bari thi chhote ki. Usne pte ki bat kahi-'rupye ka rupye bhi le lo or grahak ko khus bhe kro'. Short Hindi story.
Sunaar or uske beto ki bate ek Ameer Mahashay sun rahe the unhone Sunaar ke chhote bete ki pariksha leni chahi. Use ek din ghar bulaya aur kaha – 'mujhe sone ka ek hathi banwana hai lekin mai chahta hu wo hathi mere ghar par hi banao'.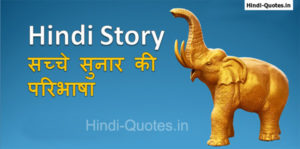 Ameer Mahashay ki dekh rekh me chhota beta hathi ka ek ek bhag banane laga. Sham ko Sunaar ka chhota ladka jab apne ghar pahunchta, to waha bhi pital se hathi ka ek ek bhag banata tha.
Ek hafte me Ameer Mahashay ke yaha sone ka hathi bankar taiyaar ho gaya. Sunaar ke chhote bete ne Ameer Mahashay se kaha ' maharaj thoda dahi mangaiye, dahi lagane se is hathi me aur chamak aa jayegi.
Abhi Ameer Mahashay dahi ki vyavastha karaane ki soch hi rahe the ki tabhi ghar ke baahar kisi gwalan ki aawaz sunai di 'dahi le lo.. dahi le lo..'
Read Another Story: Hindi Story – Chinta Kal ki
Ameer Mahashay ne us gwalan ko bulwaya. Sunaar ke bete ne kaha- 'maharaz itne dahi se kya hoga? Aap is gwalan ko paise dijiye mai is dahi ke bartan me hathi dubo kar nikal leta hu. Ameer mahashay ne thik hai kaha aur Sunaar ke chhote bete ne hathi ko dahi me dubokar nikal liya aur gwalan fir apna dahi lekar bechne nikal gai.
Sunaar ke bete ne Ameer Mahashay se kaha – 'maharaj! aapka hathi taiyaar hai'.
Ameer Mahashay hans pade aur bole – 'Ek din tum apne pita ko sachche Sunaar ki paribhasha bata rahe the aur shat pratishat (100%) kamane ki baat kar rahe the'.
Kahani ka Rahasya / Secret of Story
Sunaar ke bete ne zordaar thahaka lagaya aur kaha – 'Maharaaj! maine apne pita se jhooth nahi bola. Dahi bechne wali meri patni thi aur asli hathi mere ghar chala gaya aur aapko mila sone ka pani chadha huwa nakli hathi. Huwa yoo ki dahi ke bartan me nakli hathi pahle se daala huwa tha . Maine duboya to asli hathi ko lekin nikala is nakli hathi ko, samjhe!'
Ameer Mahashay hairan the unhe sachche Sunaar ki paribhasha samajh aa gai thi.
Conclusion:
यदि "Hindi story – सच्चे सुनार की परिभाषा" में कुछ mistake लगें तो हमें कमेंट जरूर लिखे हम update करते रहेंगे. आपका शुक्रिया!
– आशा है आपको हमारी Kahani – सच्चे सुनार की परिभाषा  पसंद आई होगी तो आप Hindi-Quotes in Facebook पर Like और Share कर सकते है.
Please Note: अभी Email Subscribe करके All Motivational Hindi Stories/Kahaniya और Latest Hindi-Quotes.in's Updates पायें अपने Email.-